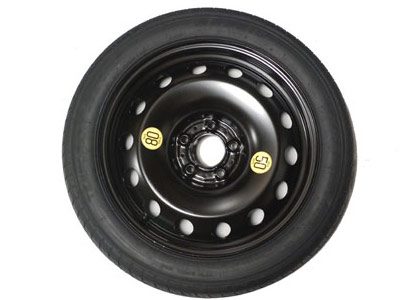 Temporary use spare tyres or space savers are specially constructed spare tyre and rim combinations provided by vehicle manufacturers as standard equipment in many vehicles.  These spare tyres are lighter and smaller than those which you normally see fitted to motor cars.
Temporary use spare tyres are generally recognizable by their unusual design (yellow rim) and compact size.
Some notes to remember when using a Temporary spare tyre:
Fit only the temporary use spare tyres provided by the vehicle manufacturer for your vehicle model. (Replacement tyres offered by reputable tyre companies may also be used provided they match the original equipment specifications.)
Temporary use spare tyres are not designed to travel long distances. If you are unsure of the condition of the space saver spare tyre, check it before driving the car.
Do not attempt to fit a temporary use spare tyre to any other rim.
 Use the temporary use spare tyre strictly in accordance with the vehicle manufacturer's instructions.
Carefully observe the manufacturer's recommendations for any limits on speed, tyre pressure, load and safe travel distance. Note inflation pressure will not be the same for the temporary spare as the primary tyre. This information can be found either on a placard near the spare tyre or in the vehicle handbook.