Kerikeri Tyrepower
1 General Gates Avenue, Kerikeri, Bay Of Islands 0230
Opening Hours
Monday – Friday  8:00 AM – 5:00 PM
Saturday & Sunday Closed



Our Latest Catalogue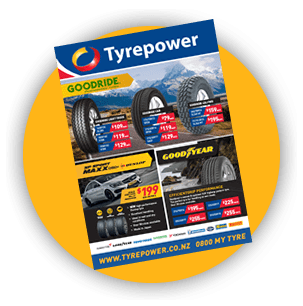 At Kerikeri Tyrepower get the power of local expert tyre fitting on world's leading tyre brands
Kerikeri Tyrepower is a family owned and operated business. Our dedicated team of professionals take every opportunity to go the extra mile for our customers. It is not unusual for us to be talking to customers about their tyres while shopping at the supermarket, or watching our kids play sport on the weekend.
Perhaps that's why we have been awarded the Tyrepower Dealer of the Year for 2012.
Get the power of great deals on all makes and sizes of tyres – Call us on 09 407 7773 today for a free quote.
We not only know the local conditions and what tyres work best up here in the far north, but can offer the complete package from Tractors to wheel barrows.
With our buying power of over 260 stores throughout Australasia, a large selection of advertised and non-advertised specials, you can be assured you are getting the best possible price also.
We use only the latest equipment, and upgrade the software packages often. Our wheel alignment machine aligns in 3 dimensions to .01 of a degree. Our highly skilled alignment technicians ensure your vehicle is not just meeting the basic manufactures specifications, but also adjusted to ensure the best possible combination of comfort and driveability.
MECHANICAL AND TYRE SERVICES
AT KERIKERI TYREPOWER
Suspension Work
Quad Bike Tyres
LATEST NEWS
FROM KERIKERI TYREPOWER
TIPS AND TRICKS
WHAT OUR CUSTOMERS
HAVE TO SAY