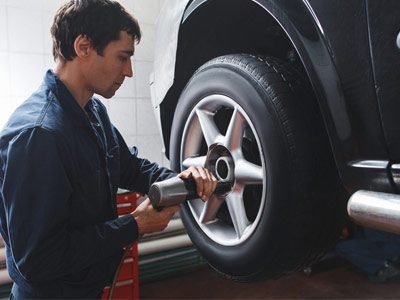 There are some important things to consider when choosing a tyre for your vehicle
Determine when you need tyres
Tyres are considered to be un-roadworthy at 1.6mm minimum tread depth.
In wet conditions 3.0mm or less tread means a significant loss of wet traction due to shallower grooves and channels.
In snow conditions, traction noticeably diminishes at 4.75mm tread-depth; shallower lug and groove depths limit a tyre's ability to "bite" into snow and clean out snow compressed into the tread. Irregular wear necessitates early tyre replacement.
Determine how many tyres you need
By utilising the safety checks for your vehicle that every Tyrepower store offers you can control early or premature tyre wear. Keep abreast of problems that may be occurring and track your tyre wear. If you do need new tyres your Local Tyrepower Pro will only be too willing to show you any problems or the tyres that need replacing and explain why. Its best to replace in pairs so there is not uneven wear, no alignment problems and so that you car in most cases remains roadworthy.
Determine the tyre size
Most people replace their old tyres with the same size that was on the vehicle when first released. If this is your choice, see your owner's manual or tyre placard in the vehicle (see door or glove box locations) or the tyre itself for the size. Your local Tyrepower Pro can help with this. You can often improve ride and performance, however, by changing tyre size. Your Tyrepower store can tell you if there is a size available, what changes to your cars performance will occur, keep within regulations and most importantly keep you safe when driving. Typical changes of this nature are:
By selecting a tyre of the next lowest profile, you can significantly improve the handling of your vehicle. On small cars, a good example is to replace the original equipment 155/80R-13 size with 175/70R-13. The tread is almost an inch wider and the tyre has a proportionately lower sidewall (however the tyre's height remains the same).
By Plus sizing. In this application, the plus size tyre is the same height as the original but its sidewalls are shorter. This change delivers improvement in tyre response and handling.
Up sizing, selecting a larger tyre is a common option, especially for 4WD and truck owners; taller, wider tyres improve performance as well as ride quality. On trucks, larger tyres can improve traction, load carrying capacity and appearance.
In all cases its best to speak to your Tyrepower Pro for the best service and advice at the right price. This will insure your car is roadworthy and most importantly keeps you and your loved ones safe.
Analyse your driving habits
Your Tyrepower Pro can help you analyse your driving conditions. Perhaps you drive on dry roads most of the year, mixed wet and dry, or mostly wet. Also factor in seasonal extremes. Most tyres purchased today are the all-season type that appeal to the great majority of drivers who seek acceptable performance and traction across the spectrum of possible driving conditions in all four seasons.
If you drive a RV or Four Wheel Drive your Tyrepower store can help. Chances are you'll be considering an all purpose-built tyre design to match your driving needs. These designs have trade offs including traction highway ride quality and, fairly recently, performance. In terms of traction, designs range from HT (highway tread) to AP (all-purpose) to AT (all-terrain) to MT (mud terrain) in order of aggressive tread design. Highway ride quality diminishes, as the tread design becomes more aggressive.
Buy the best quality tyre you can afford
The old adage, "you get what you pay for", may have been invented for tyre buying. A good exercise would be to calculate the total price for your tyre purchase and divide that by the kilometers of service to get the cost per kilometer. You'll quickly see that the better tyres are the better value. When you have kilometerage guarantees to compare, this is very easy, but there is another way. When you are comparing tyres within a particular brand, use the UTQG ratings (treadwear) to calculate value; divide the treadwear rating by the price. The highest number should be your pick if you want the best value by wear. This system won't help you compare between brands, however, because there is no standardisation for treadwear ratings. Traction and temperature ratings are standardised and useful for making comparisons between brands.
Consider tyre performance and speed ratings
Most people are aware of speed ratings. Suffice it to say, buy a tyre with the appropriate speed rating for your vehicle. If you do not do this, be aware that you are limiting your vehicle's performance in terms of handling and speed capacity. Generally speaking, a tyre's handling response is commensurate with its speed rating. Look at it this way, you'll lose that crisp handling the manufacturer designed into the vehicle and you will not be able to safely achieve the speeds the vehicle was designed for if you use a lower speed rated tyre than the original design. Conversely, you can improve your vehicle's handling with a higher speed rated tyre.
Consider tyre type
Each year more and more car and light truck/4WD/SUV designs are introduced. As a result, tyre manufacturers are responding with more and more specialised designs. Be aware that for a given vehicle you can choose anywhere from longwearing, easy-riding tyres to neck-snapping, style-conscious ultra-high performance tyres. It's your call.