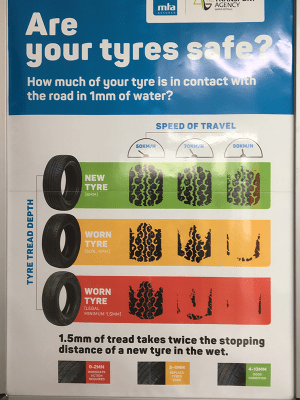 New analysis of NZTA data shows 32 fatal road crashes over the past three years were linked to worn tyres," says Chief Executive Craig Pomare.
MTA has raised the issue with government and other agencies but is concerned that vehicle safety does not form a significant part of the Government Policy Statement on Land Transport.
"This statement guides government funding for the next ten years, including funds to reduce the road toll. While there is some mention of vehicle safety standards most of the focus is on road improvements."
Road factors are linked to 10 percent of road deaths but the government is overlooking the nine percent of fatal crashes that are linked to some sort of vehicle fault – often worn tyres.
Worn tyres have been linked to a growing number of crashes since the warrant of fitness system was changed in 2014 (up from 107 crashes in 2014 to 166 in 2017).
"MTA will continue to raise this issue with government and NZTA. But we are also promoting the message that drivers should check their tyres every few months to make sure there is plenty of tread to get them out of trouble if they need to brake suddenly."
He says MTA has taken the position that people should consider changing their tyres at around 3mm of tread, rather than wait till they hit the minimum allowable depth of 1.5mm.
"At 1.5mm you have half the stopping distance as a new tyre in the wet."
"All the international research shows that the more tread a tyre has, the safer you'll be if you have to brake hard or accelerate out of a dangerous situation on the road."
Last year, over half a million vehicles failed their warrant of fitness because their tyres were in poor condition.
"We want people to either do the check themselves or take their cars into a workshop if they are not certain whether it is safe," says Craig.