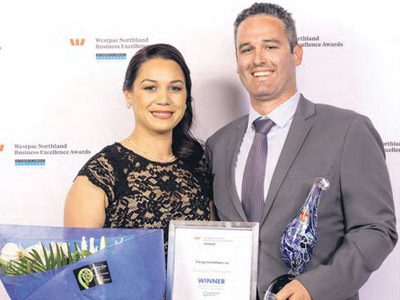 Tyrepower Whangarei wins Best Small Business Award by 'always going the extra mile'
A business culture based on customer service, trust, positive thinking and a unique fundraising initiative has proven a winning formula for Tyrepower Whangarei.
The company won the Henderson Reeves Excellence in Business Small Business Award at this year's Westpac Northland Business Excellence Awards.
A total of 40 entries in five business categories, seven ancillary categories and an overall supreme winner were submitted.
Tyrepower nudged out finalists Activ8 NZ, EchoNorth Diagnostic Ultrasound and Te Hiku Media in the four to 9 full-time employee category.
Owners Harena and Shane Fraser have taken a relatively mundane industry and established a point of difference by focusing on the customers and elevating service levels to a very high standard, the judges said.
This combined with very good image management, branding and significant community support, including "gold coin donations" for puncture repairs, suggests they have developed a differentiation strategy that really sets them apart.
"It has been a goal we have been working towards and this year we felt confident enough to enter," she said. "We feel like we have gained so much just from the process of entering, but to actually win the award is something I can't quite explain.
"We were proud to stand alongside some amazing entrants this year and humbled by what each business is doing to improve Northland."
The Frasers have been in business for 13 years and are part of a co-operative with members all shareholders in the company. Shane started the business with his aunt and uncle, with Harena joining 10 years ago.
"For us, it's a case of delivering on our promise," says Harena. "Our mantra is that we always go the extra mile, so your tyres can, too. But it's not just a cute phrase. We mean it. Every customer and every circumstance is important, an opportunity for us to make a positive difference … saving them time or money, or both."
As a husband and wife-operated business, the couple has an advantage over company-owned stores that have a manager running the shop, Mrs Fraser said.
Flat out helping a good cause…
Two years ago Tyrepower Whangarei began a "short-term sales promotion", offering to repair punctures for just a small donation to Ronald MacDonald House Charities. The promotion has been phenomenally successful, raising over $16,000 so far. And it's still going!
"At the start we had a team talk about which charity to support, and the consensus was Ronald McDonald House because it helps so many sick children and their families. Some motorists give a dollar, or two, some give what we'd normally charge them to repair a puncture ($25-$30). We've had people donate $100 or more. It's been enormous. And we've got plans to help more good causes starting next year. Watch this space!"