Helensville Tyrepower
91-93 Mill Road, Helensville, Auckland 0800, New Zealand
Opening Hours
Monday – Friday 8.00am to 5.00pm
Closed Saturday, Sunday/Bank Holidays


Our Latest Catalogue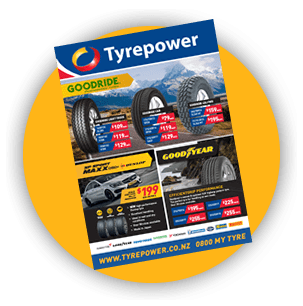 At Helensville Tyrepower get the power of local expert tyre fitting on world's leading tyre brands
Helensville Tyrepower is a family owned and operated tyre dealer dedicated to friendly advice and prompt service.
We stock a wide range of car and four wheel drive tyres to suit any make, model, and budget. We also provide a wide range of truck and tractor tyres, ATV tyres, and inner tubes to suit, and of course, tyre and tube repairs on just about anything, even the old pair of gumboots with holes in the toes.
Using our hi-tech digital wheel aligner and wheel balancer, we are able to accurately measure your vehicle and aligned your wheels and make the necessary adjustments while you wait.
The real bonus for Tyrepower customers is our full, comprehensive mechanical workshop integrated within the same building. We provide a one stop service.
Get the power of great deals on all makes and sizes of tyres – Call us on 09 420 8989 today for a free quote.
MECHANICAL AND TYRE SERVICES
AT HELENSVILLE TYREPOWER
WOF Checks
Car servicing/ 4×4 Servicing
Transmission Servicing
Brake Repairs and Servicing
Suspension Parts / Servicing & Alignment
Century Batteries
Alloy Wheels
Wheel Alignments
CV Work
Steering Repairs & Alignment
Spray Painting
Panel Beating
WHAT OUR CUSTOMERS
HAVE TO SAY